SydneyDirect.com.au is a unique ecommerce marketplace for Australian companies to gain immediately digital presence in Chinese. The marketplace has many unique features to help Merchants to develop Chinese market in Australia and cross border.
* Chinese webstore with shopping cart. See example of TenRen Tea store in SydneyDirect
* China social netwok solution to share and log-in WeiBo and WeChat accounts.
* Merchant store is also a WeChat store, great saves of effort and money!
* Is a portal for cross platform share between Facebook, twitter, Instagram & WeChat & Weibo.
* Powerful English frontend vendor dashboard to manage your store, add products, create coupon code.
* Chinese user interface for Consumers
* WeChat similar Mobile theme, can serve as a WeChat Official Account (OA)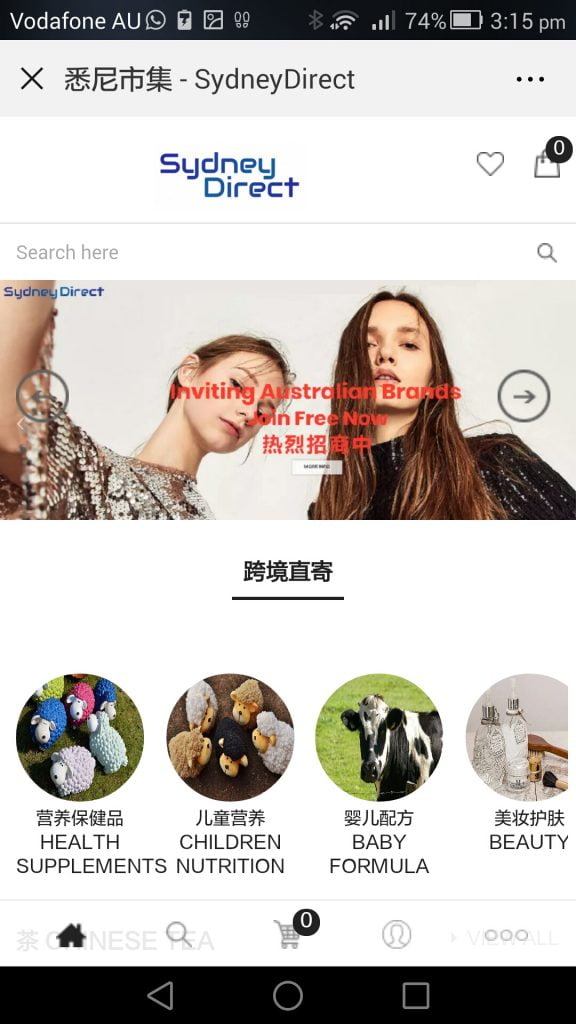 * Full H5 compatible and can be open in WeChat browser
* Support multi-currency
* China payment gateway, WechatPay, Alipay
* Each merchant got a storefront page
SydneyDirect is a marketing platform with digital marketing service available to merchants:
* Chinese shopping cart Google shopping campaign
* Dynamic remarketing campaign to established Chinese consumers in Australia
* Branding campaign in AU & China
* Integrated social media promotion
* Cross border Logistics service
* China channel program with over 100 Retail Points in Shanghai
How to join SydneyDirect
Welcome ! New Merchants! Sign-up to get your Chinese webstore now.
Simply click to REGISTER AS A VENDOR and fill in information, by applying to be a Vendor (Merchant), you agree to the Terms & Conditions of SD Vendors 
You will receive an email of verification once registered,
You will be lead to vendor dashboard automatically to upload store information and products data.
Start Selling
Join us now to enjoy immediate market penetration.
Please provide your project information here. We will contact you shortly with proposal.