Kupiter KBS-2020 in-vehicle computer connecting to control centre via 3G router & GPS/GPRS for real time dispatching services.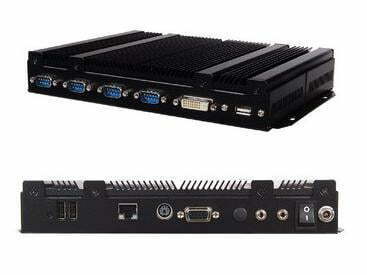 In-vehicle computer with 4 PoE Port to connect the mobile DVR camara.
Kupiter provides turn key all-in-one solution for fleet management for all kinds of dispatching services, in Taxi, Bus, Truck, Ambulance, Police car & Cash-transportation vehicles. We integrate mobile DVR, 3G, GPS, GPRS and payment facility devices and peripherals based on client application & projects.
The term Intelligent Transportation Systems (ITS) spans a range of applications for improving transportation efficiency using information and communication technologies. Advances in wireless networking, GPS and other satellite and mobile telecommunication technologies, as well as RFID and other sensing technologies have led to a rapidly expanding list of potential applications for intelligent transportation systems.
A vehicle computer is able to integrate with peripherals for applications in various-type of vehicles:
– Interactive navigation touch panel
– Data Communication (WAN-realtime data exchange, WIFI)
– Dispatching services & fleet management (courier, trucking, etc.)
– IP cameras of Mobile DVR systems (ambulance, cash transportation, etc.)
– Passenger payment systems (RFID reader & receipt printer)
– Display devices (bus PIDS, taxi meter, etc.)
– Law-enforcement devices (speed camera, siren police car)
In addition to the in-vehicle applications, intelligent transportation systems are also used in traffic signal control systems, electronic toll collection, parking availability systems, railroad management, shipping – all rely heavily on the convergence of information and communication technologies.
Features
Vehicle Ignition power management – PC is turned on/off by vehicle ignition signal.
Intel® Atom™ D525 processor /ICH8M up to 4GB RAM
VGA, PoE Gigabit Ethernet X 4, Audio port
2 x 2.5″ HDD space
3G (HSUPA/GSM/GPRS/EDGE) Compliant
WLAN (802.11 b/g/n) Compliant for passenger internet access
On-Board 20-Channel GPS receiver for Dispatch and Navigation
G Sensor on board
Two external access 2.5" SATASSD/HDD drive bay
+9~30Vdc for +12V or +24Vbattery source, support IgnitionControl by MCU, setting bySoftware ISM Utility
Option for Wireless LAN module
Option for Antivibration mounting-kit
Option for DVI display
I/O includes 2x GbE ports, 1x VGA, 4x USB, 1x RS232,4x RJ45 PoE (Total power consumption budget to 30W